Gathering financial sources and liquidity regulation are the two processes that are important to any company. In the past, companies depended on and opted for bank sources, while the changes and the development of the Slovenian capital market has encouraged the alternative sources of collecting means on the capital market in the form of debt securities.
We consult companies about the restructuring process of issuing and preparing the necessary documentation, searching for and addressing potential investors and executing the process of issuing commercial papers or bonds to the KDD or their introduction to the Ljubljana Stock Exchange
WHY DECIDE TO ISSUE BONDS OR COMMERCIAL PAPERS?
Due to the non-competitive lending interest rates of the local banks and low requested revenues on capital markets for debt securities, the opportunity of acquiring sources of financing through the capital market has arisen. The advantages of issuing debt securities in comparison to the traditional bank loan are the following:
Diversification of the sources of financing and reducing the dependence on particular banks.
Flexibility in selecting the debt deadline and greater adaptability.
Less commitment and encumbrance clauses regarding achieving specific business indicators.
In case of an adequate financial stability of the issuer, the bonds or commercial papers do not have to be secured, which can mean for the issuer that the existing insurances can be released for other business needs.
Entry into the capital market, opening an additional channel to the financial sources and the establishment of the resources gathering practice.
Liquidity of debt financial instruments on the secondary market.
Competitiveness of interest rates of debt securities in comparison with the bank interest rates.
Preparation of the entire documentation for acquiring sources of financing from the brokerage company.
WHICH COMPANIES ARE MORE SUITABLE?
Suitable companies are local companies which:
are planning additional investment needs, be it for renovation or expansion of production, or acquisition or any other type of business activities;
are moderately indebted;
need a minimum of 3 million EUR of resources.
THE PROCESS OF ISSUING BONDS OR COMMERICAL PAPERS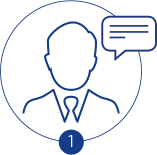 Comprehensive consultation based on an interview where wishes and expectations are discussed.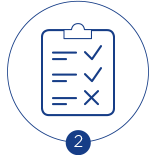 Testing the market to acquire an indicative interest rate and the issue size.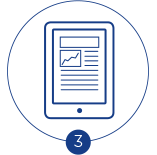 Preparing a presentation document (leaflet) and other selling documentation, as well as compiling a list of potential investors.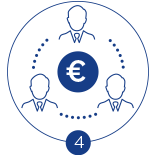 Advertising the issue among local and foreign potential investors, organising presentation conferences for potential investors in Slovenia and abroad.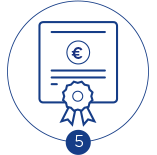 Offering an entry number and management of the book of orders, settling legal procedures with the Central Securities Clearing Corporation and issuing commercial papers in the central KDD register. If requested by the client: an introduction of issued bonds or commercial papers to trading on the organised market of securities (preparation of the representation document for introducing the commercial papers to trading on the organised market).
CONTACT US
We are available for any questions or information:
Head of Department and Chairman of Board